So, Wednesday afternoon became an afternoon of exploration, getting lost, some massive milage (we did over 10 miles of hiking on Wednesday), great sites, and comparatively little photography. We started by driving from our last hiking spot (1) up Kolob Terrace Road towards the Kolob reservoir. It was some really interesting scenery, and as we got higher into it, there was still quite a bit of snow (!) up in the area. At the reservoir itself (2), we found a few groups of fishermen who were donning wetsuits, waders, and other warm gear to brave the trout fishing. Apparently this is a trophy lake for trout! There was a road closed sign going around the east side of the reservoir, but that didn't stop us from blasting through the mud and gravel to try to make our way to some roads that Rick knew. However, the big pile of snow (at 2) did—we turned around and headed back. The good news was that the mud on the road left the Nissan covered with a layer of bad-ass mud; we kept this on the vehicle until our last day in Moab.
On the drive back, Rick thought we would give Lava Point Road (3) a try. But with all the snow melt, the road at the lake's 'end' was under water. We didn't think we'd have enough clearance to even try it, so we kept on driving until we got to Wildcat Canyon Trailhead (4). There we got out and started hiking. And hiking...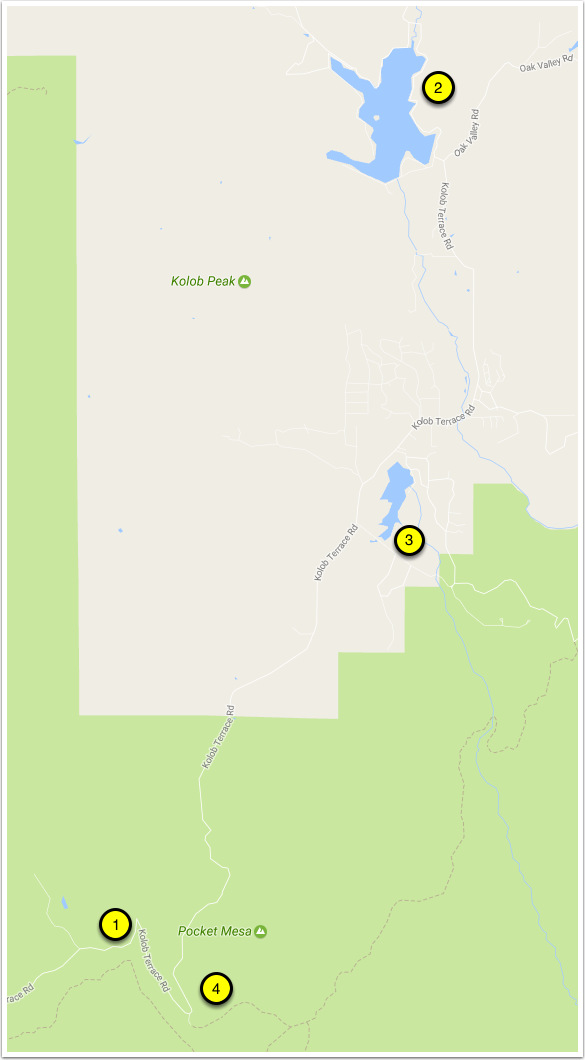 We started hiking—there are a few trails out this way. There's Wildcat Canyon trail. There's Northgate Trail. There's a connector trail to something else. We should have taken better notes, because we took a 'wrong' turn and made a right on what I think was Northgate trail. We hiked a while, coming on some fallen trees that were being cleaned up
We eventually came out and found Northgate Peak, which wasn't what we were looking for (we wanted the canyon. We decided to do some off trail scrambling. A lot of fun, but we got a bit turned around (which confuses us—there's this giant chunk of sandstone always in our sight), and it took us a good hour to find our trail.

I believe this was shot off of a formation that we scrambled up—we didn't see much point in going over, which was good. We couldn't even find our way back very effectively. In looking at Google maps, I think we probably picked up a branch of Wildcat canyon trail, but that's not what we came down on, so we didn't recognize it. And it went through some meadow-like areas without much trail, so we really weren't sure what we were following. And we came across some metal debris that we clearly didn't recognize.
So, after a big, long confusing hike back, we returned to where the trail had forked and took the other path. I haven't figured out exactly where we came out on Google Maps, but here are some photos to document the trip. Many of these are taken with the 70-200, and this lens has a coolish color cast which I haven't completely figured out yet (after 10 years…)
I liked this 'snow' mustache on the sandstone. The checkering/weathering pattern in this stuff is just amazing. You never get tired of textures in Utah.
Looking back to Zion
Whatever this canyon is, it's certainly colorful. If it was Wildcat Canyon, we saw no wildcats around.
Here's a shot where I wished I had brought a polarizer. That and some ND and ND grads would have been nice!
Here's an awesome series of Rick. There's a decent drop where here's standing, and a bit of a climb to get up to this. But a great little overlook!
Sigma marketing, give me a call...
Two cameras. He can do this because he has two thumbs...
As the afternoon wore on, the light got sharper and shadows got harder. We didn't see much in the way of clouds, so we figured we'd start walking back. As I mentioned, this was a really long day of hiking. My phone quit before we got to this area (at 8.3 miles), and I figure we had at least another couple miles back. 
Here's Rick on the hike back, getting ants. He doesn't know that he's getting ants at this time...
Domo tucked into rocks. For the Sigma fans, this is heavy on nfl.
I think we pulled over to shoot this scene as we were heading back to Springdale for the evening.