Unbelievably, we're still not done with 'Day 5' photography! While driving in on House Rock Valley Road, we had stopped to take photos of the Vermillion Cliffs and these wacky striped multi-hued hills in the foreground. Both Kendall and I had thought we'd seen a road that would allow us to drive in amongst them, and perhaps get to an area in the cliffs that looked like it might have an arch. So on the way back, we turned off of House Rock Valley Road and followed a small dirt road through a wash, hopefully being led to the area we had seen earlier. But, no luck... We turned around and found another branch, but this was marked by the BLM as being a 'vehicles forbidden' area. So, we decided to park and hoof it in through a wash.
Bentonite is a type of clay material, and one of the rangers at the Paria station had mentioned these by name. You can see them shown below: The Vermillion cliffs at top, some very red/orange sand and rock in the middle, then a bunch of these striped clay hills, followed by more sand hills, and then another layer of bentonite. The earth has just been laid bare out here.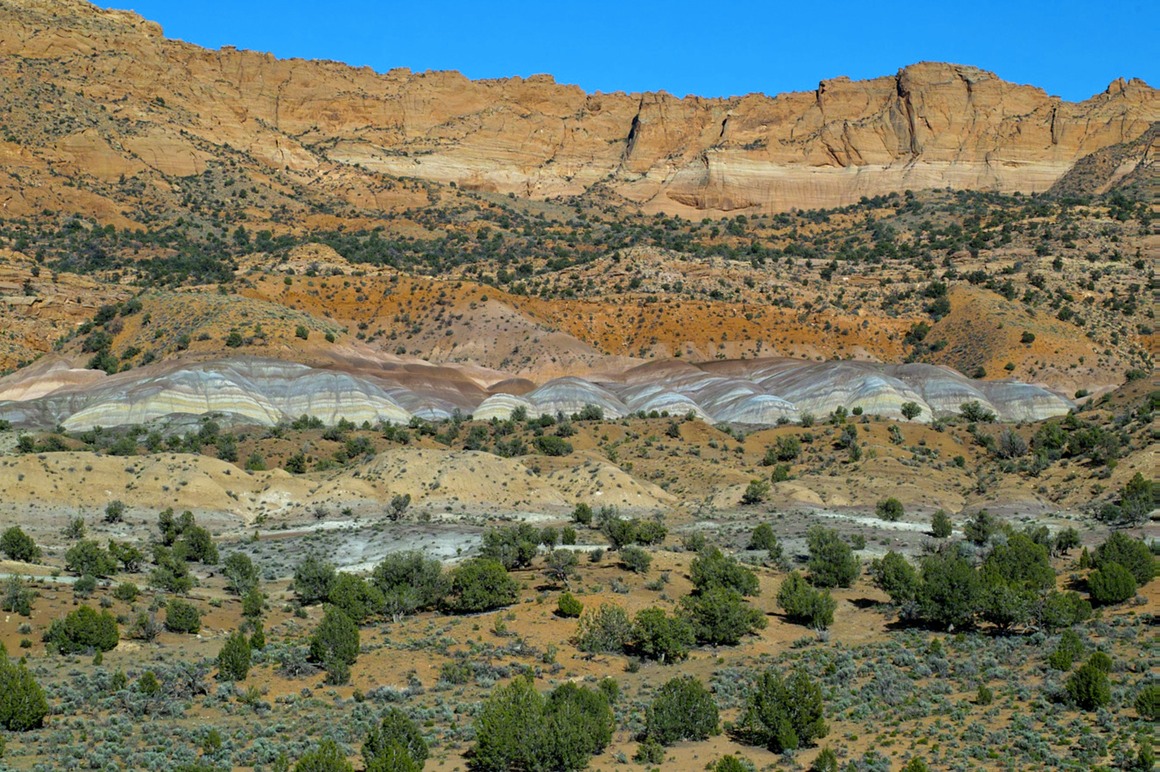 The hike through the wash was really quite pretty, and there were a number of beautiful polished pebbles all around. I wished that I had photographed it, but my SD14 had pretty much eaten all my batteries, and I was saving juice for the final destination. When we got there we were awestruck. Another bizarre landscape: fragile and wonderfully weird. This reminds me of the 'silly sand' stuff that we used to play with in the 70's. This hill below is probably only 10 feet tall, but you can see the stripes of white in the 'chocolate'. It's an intimate example of some of the larger formations that we were going to photograph.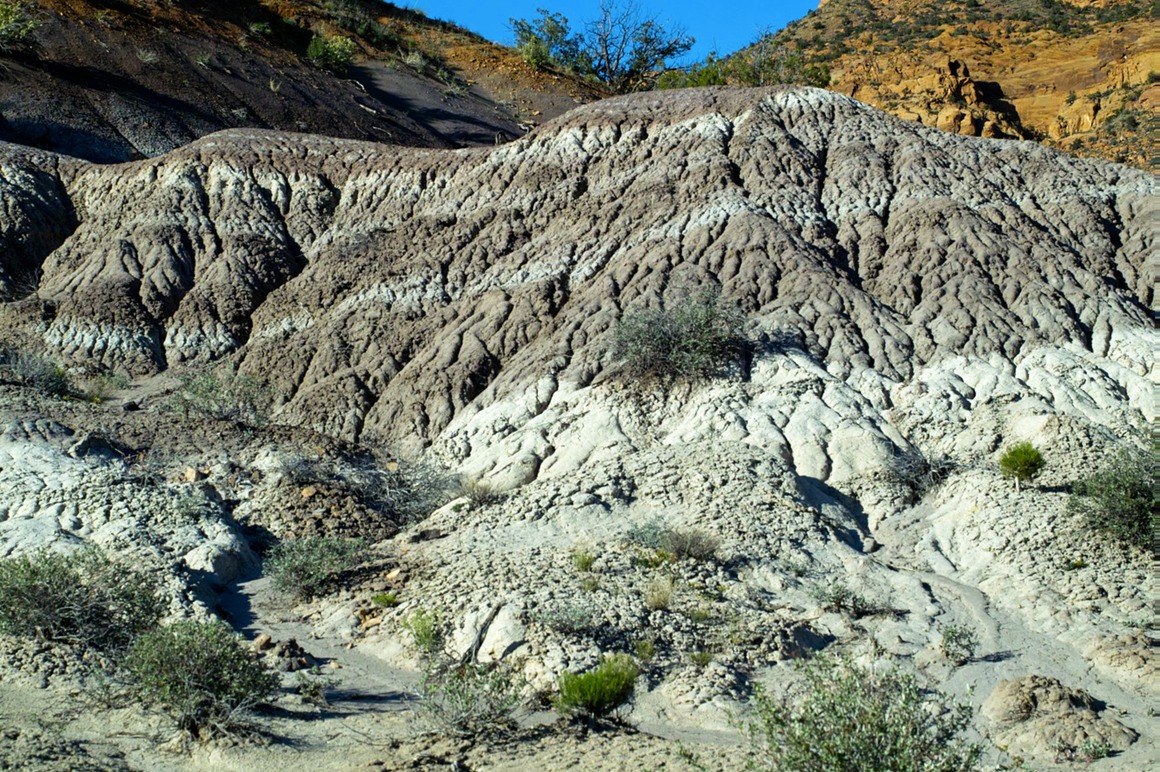 Rick setting up to shoot a medium sized hill.
Where in the world do these colors come from? Yellows, oranges, greens, reds, purples.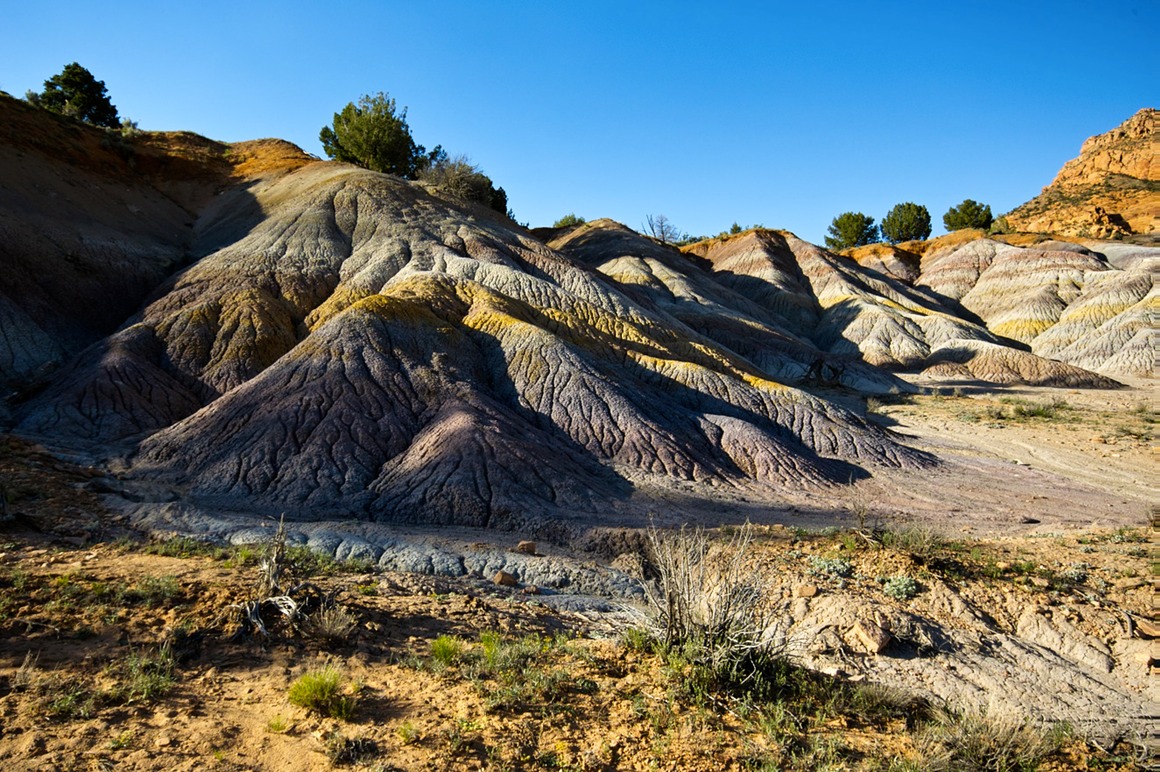 I'm surprised that Domo's not hiding in this photo somewhere.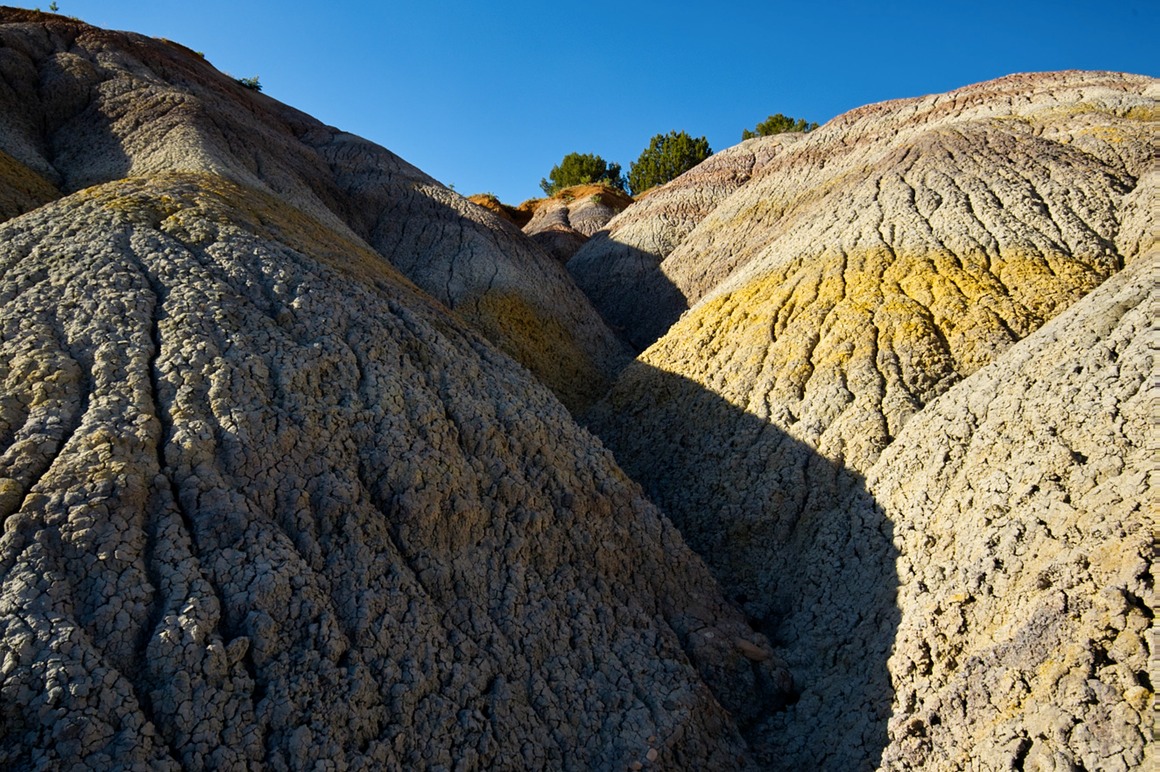 It was amazing to see anything growing in this area. There were two major types of plants in the clay: this broadleaf thing that would send a bloom spike from the center (things weren't blooming yet), and a small succulent that reminds me of sedum.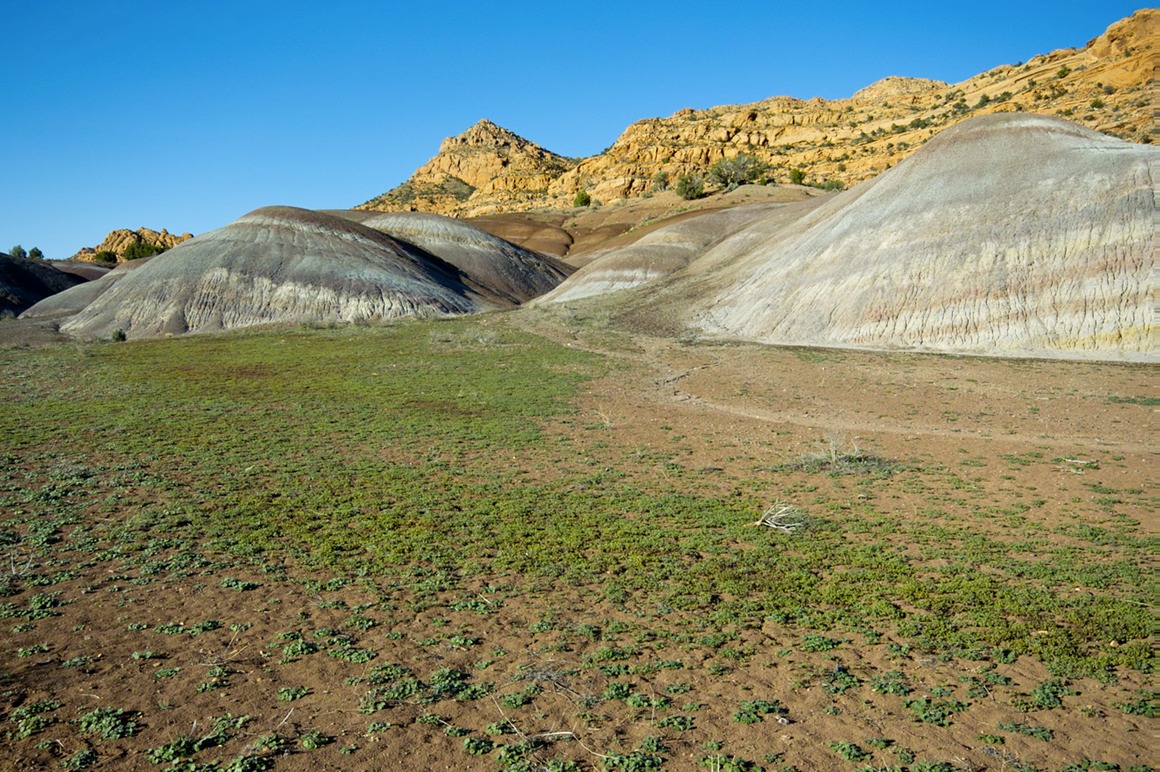 This is in an area that probably had cattle grazing. What this is used for, not sure...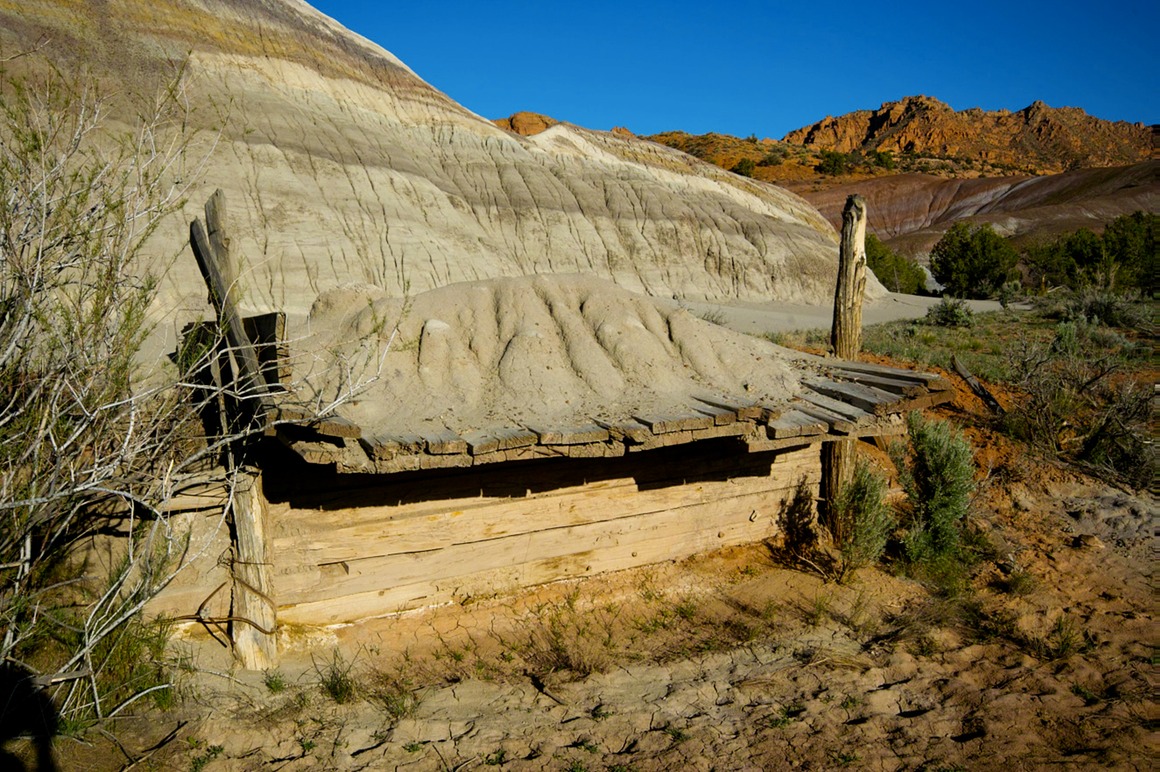 This give a nice scale to the smaller striped hills. The bigger ones are to my back.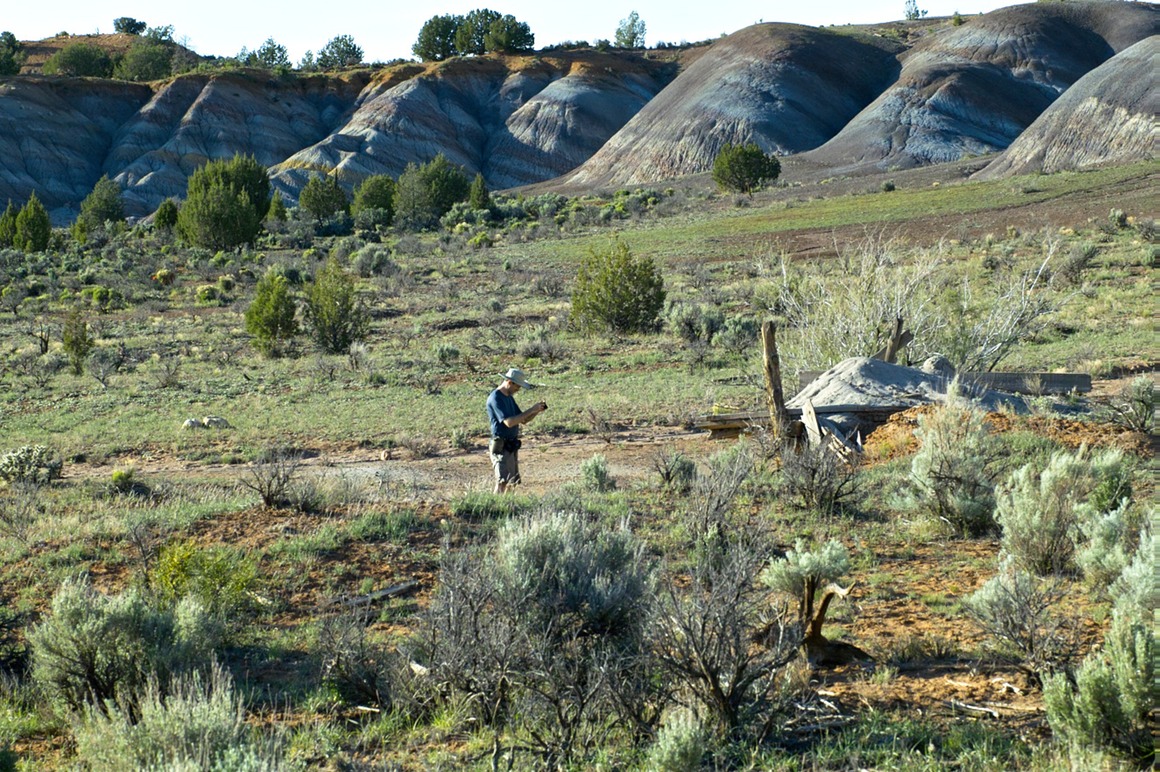 Speaking of bigger, here we go.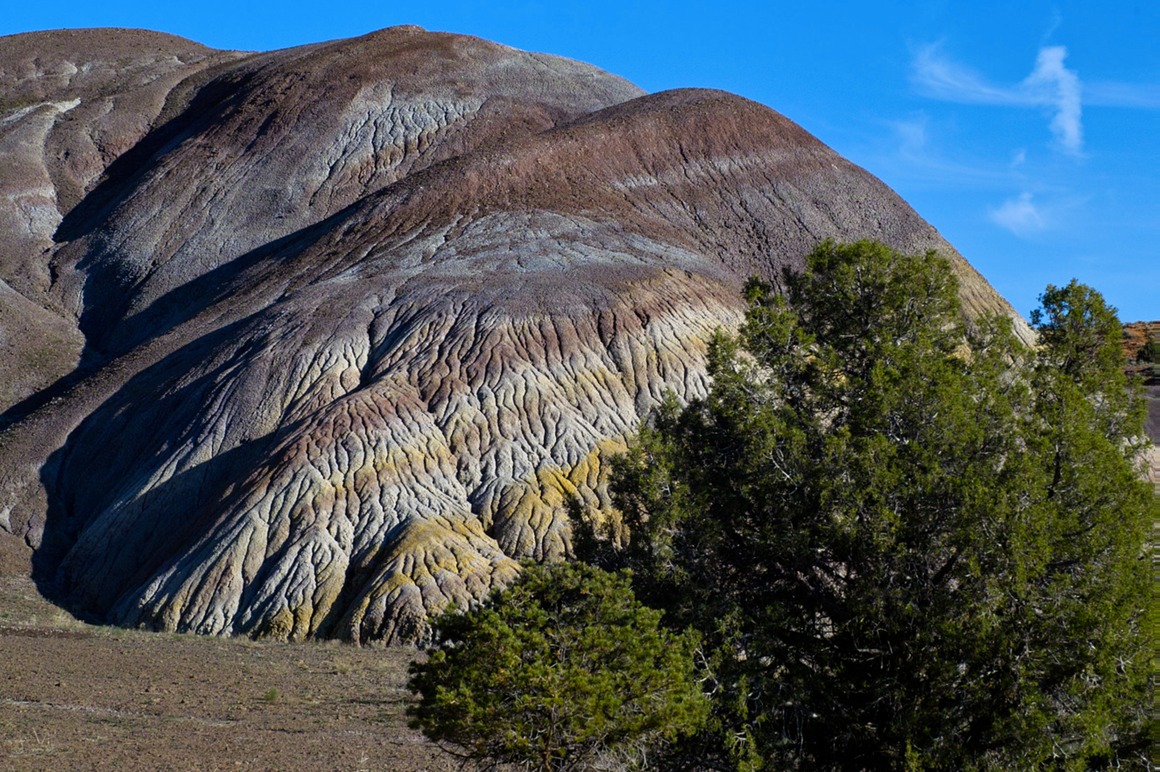 These hills probably approach 80' tall.
Here are these succulents that I mentioned. They're beautiful, but I didn't get a great photo of them. That's probably my biggest disappointment of the trip (so I'd say I had a pretty good trip...)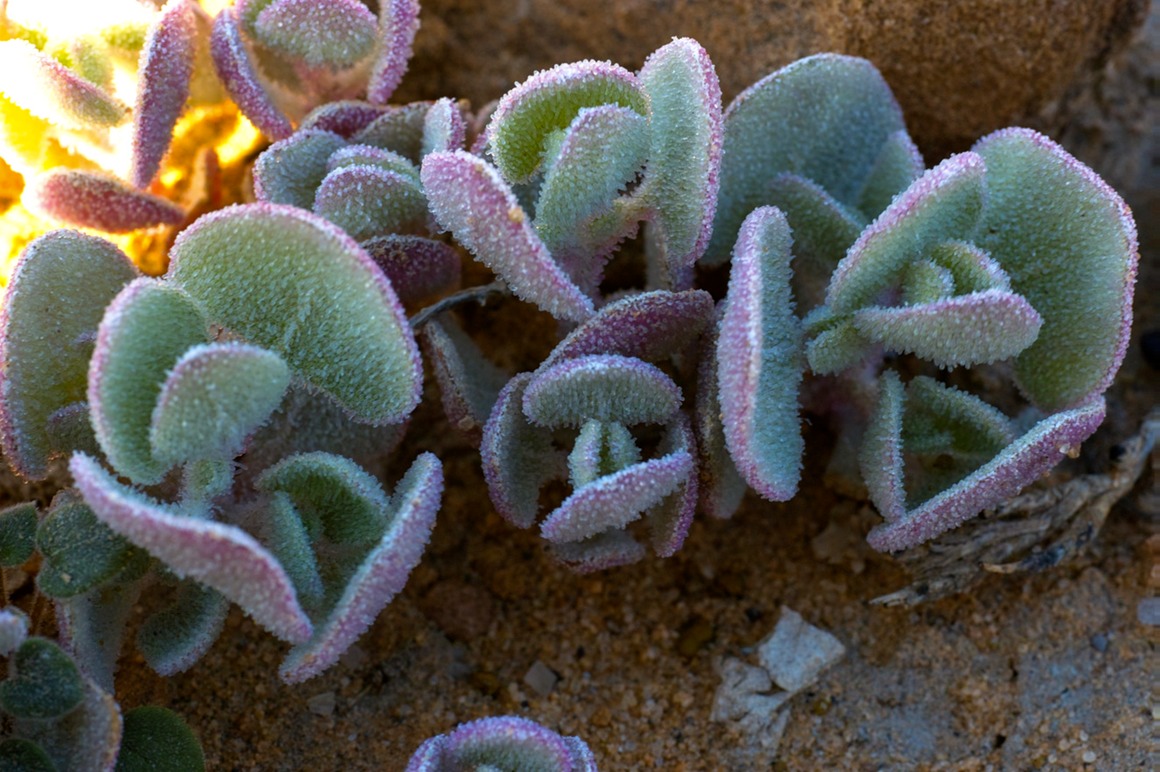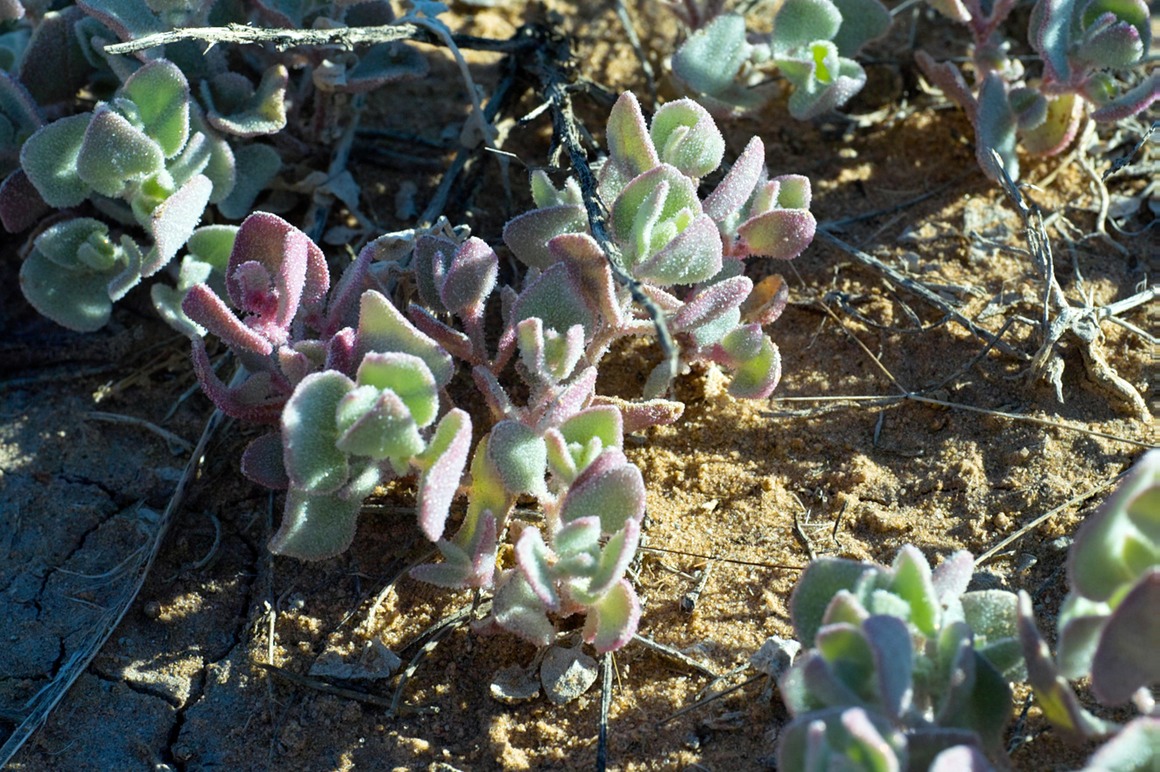 Yes, the hills are spectacular in color. But they do pretty nicely in B/W too. Low contrast vs...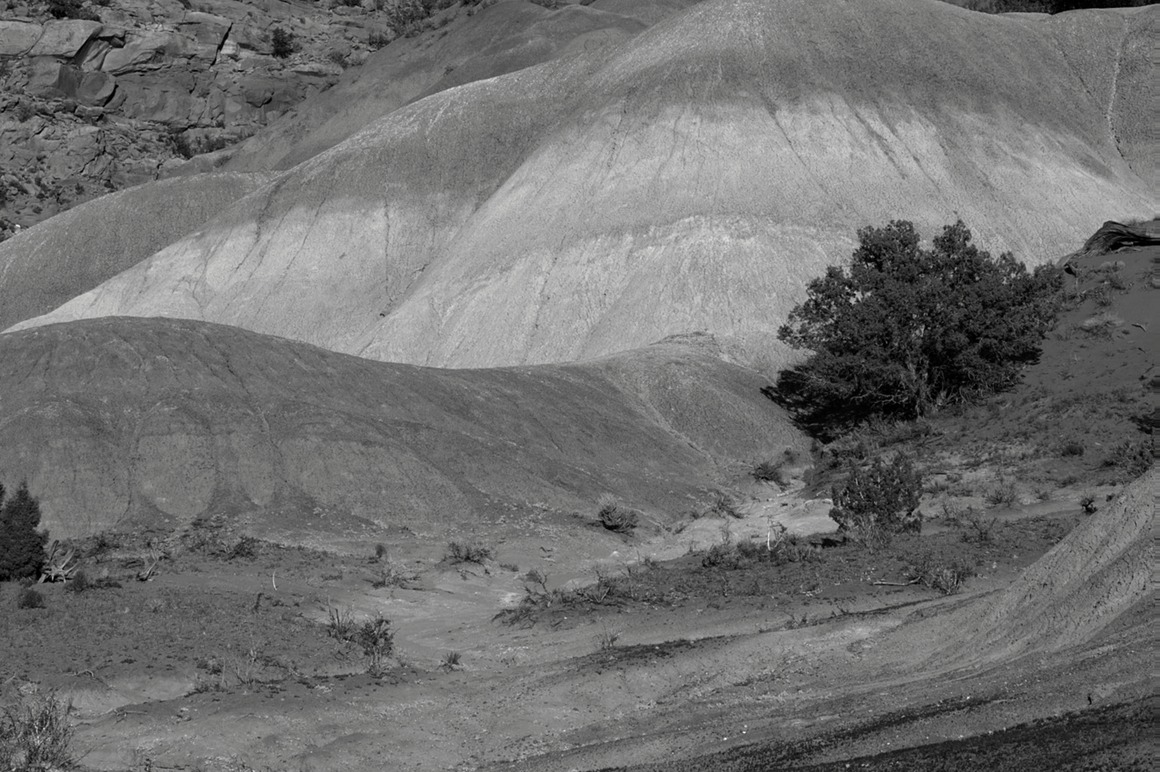 higher contrast.
I climbed one of the largest hills up a wash area (to not damage the hill). The top area was surprisingly firm and resistant to my footprints, and this was a fantabulous view as the sun was getting lower in the west. The cliffs were just on fire!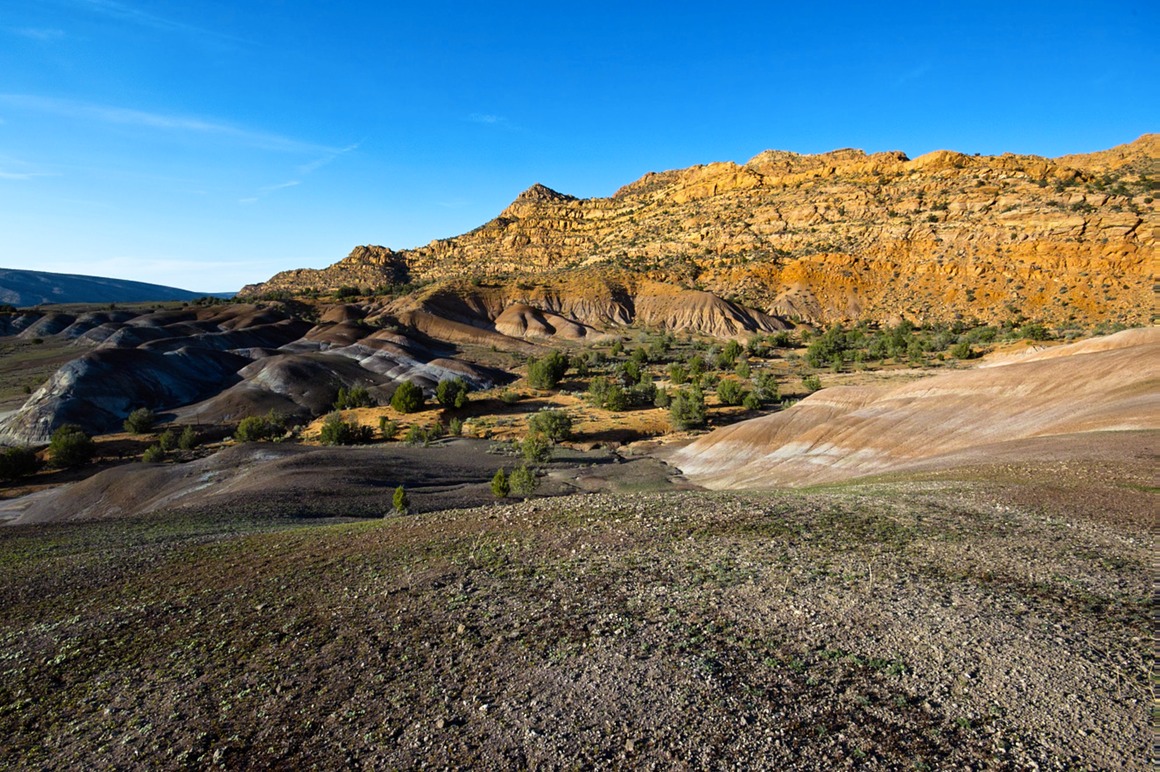 Looking in the other direction.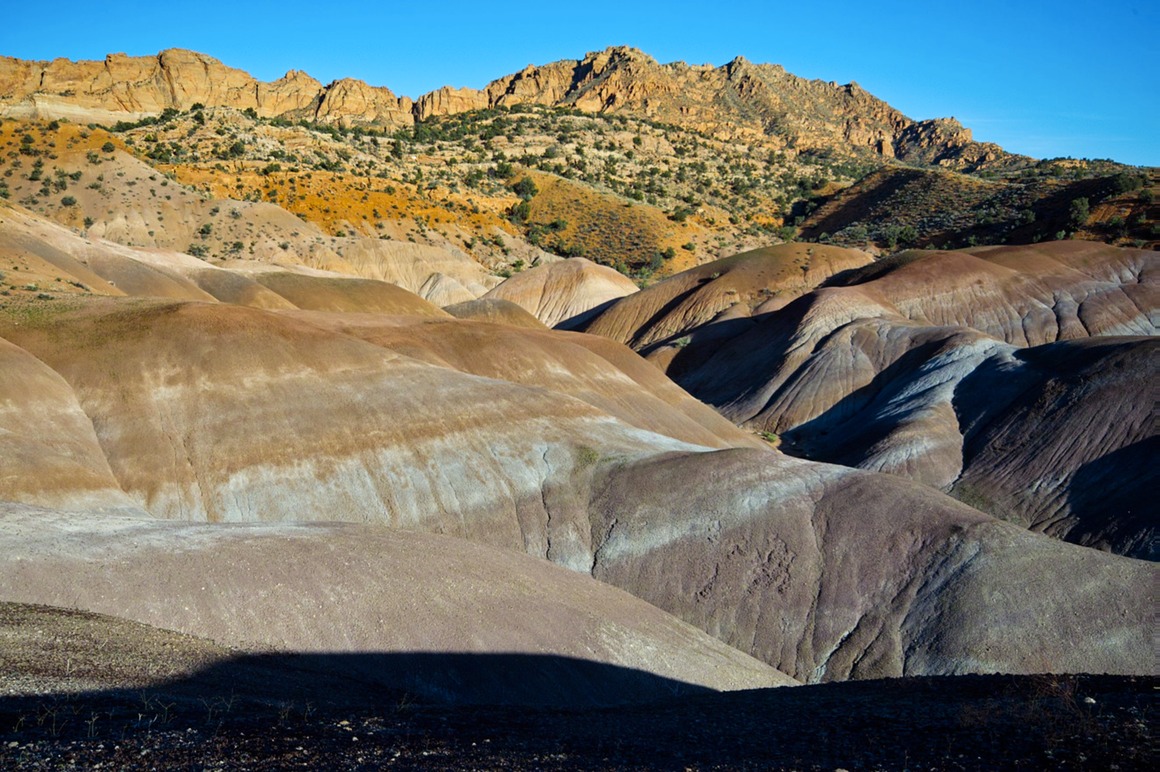 And that ends Day 5 of photography. It seems as though it was nearly an entire lifetime of opportunity rolled into one 16 hour period! Rick had promised me that if I liked Death Valley, that I would love this area, and I get what he means. Wonderful, wild, isolated, with such an incredible diversity of natural beauty. It's hard to believe that there could be anything else to photograph around here, but tomorrow we dive into the slot canyon of South Antelope.