So as we were driving to Moab, Rick decided that he should call ahead and check the lodging situation with his Moab realtor (he owns some property in the area). We didn't have reservations because we weren't sure where we were going to be for this weekend (the Canyonlands were the original plan). Anyway, she told Rick that Moab was crazy, and that there were no rooms to be had. She mentioned a realty company that dealt with rentals, and suggested that we try that. Well, we couldn't find the place, so we wandered into an open reality company. There was one woman working—Rick described our situation—photographers who would be staying for a few days looking for a rental. She said the company only had a few, and they were all occupied. Then she called a friend who had a studio that she sometimes rented. No luck. She called around to find something for us. No luck. Nearest lodging was about an hour away (Arches, where we would be shooting, was only a few minutes outside of the town). So this woman took pity on us, mentioned that her college age kids were gone, and she'd be happy to rent a couple rooms to us for an unspeakably low price. We bargained the price up a bit, and checked to see if dragging us home would put her husband and she on the divorce track. But everything seemed to be good. 
We hung out in Moab for an hour or so before showing up at her place. I'm not naming names, but the hospitality was awesome! Her husband had a ton of local knowledge on where to shoot, and although we couldn't con him into taking a day off, we'll be visiting again with some advance notice. I don't know how Rick does it, but he seemed to be able to get us into some great situations. This was perfect, and we had a great time with our hosts. I know that by the end they felt funny taking money—but I look at the situation from the other side—the lodging and fellowship was priceless! God bless them both.
I suppose that I should put a few photos up from our first afternoon shoot at Arches. The first two are of Sand Dune arch, a really nice little arch that looks like kids like to climb on it (probably only 15-20' high). There were a whole group of kids and adults who showed up with footballs and frisbees to play here, but they were patient and let us finish up our shoot.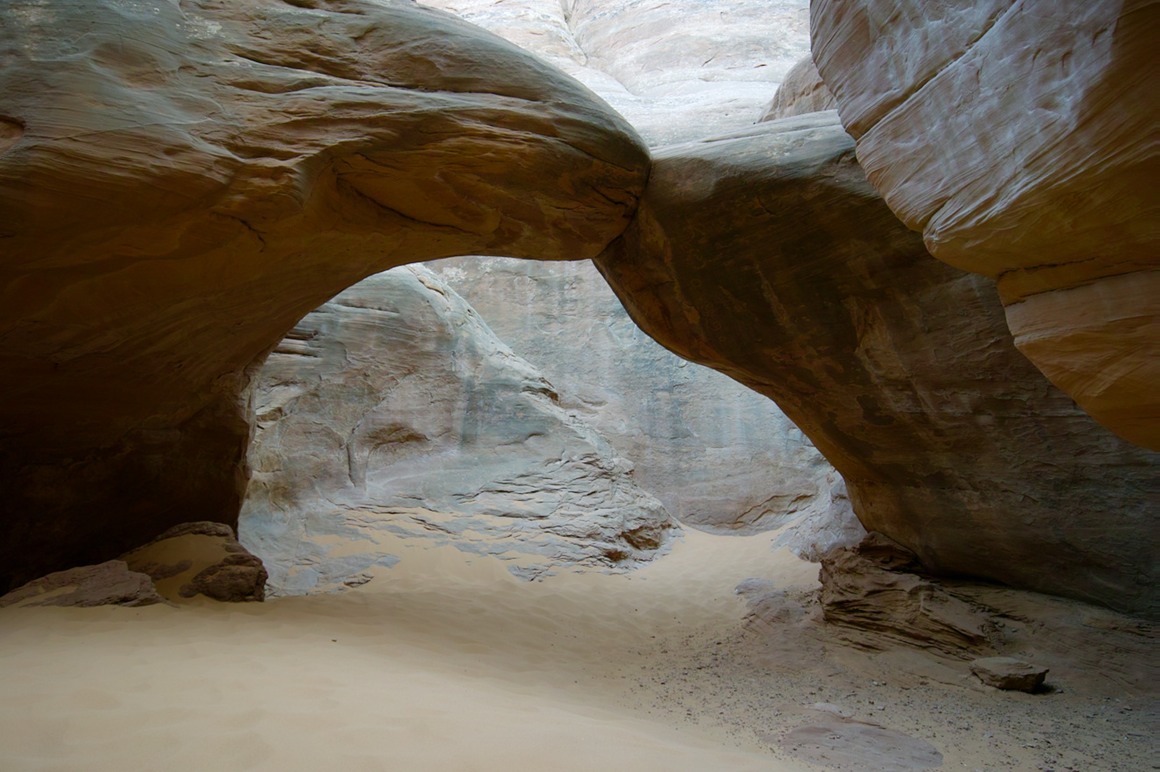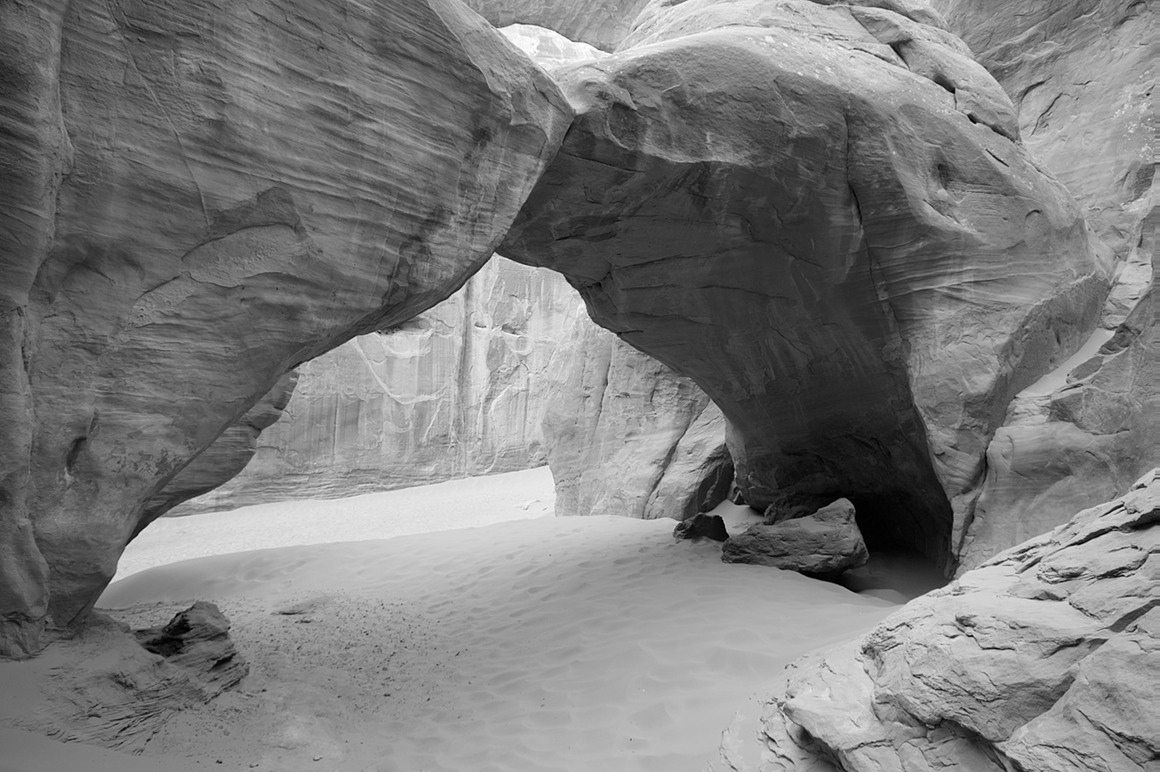 These sandstone fins are a staple of Arches. The Sand Dune arch was in amongst them.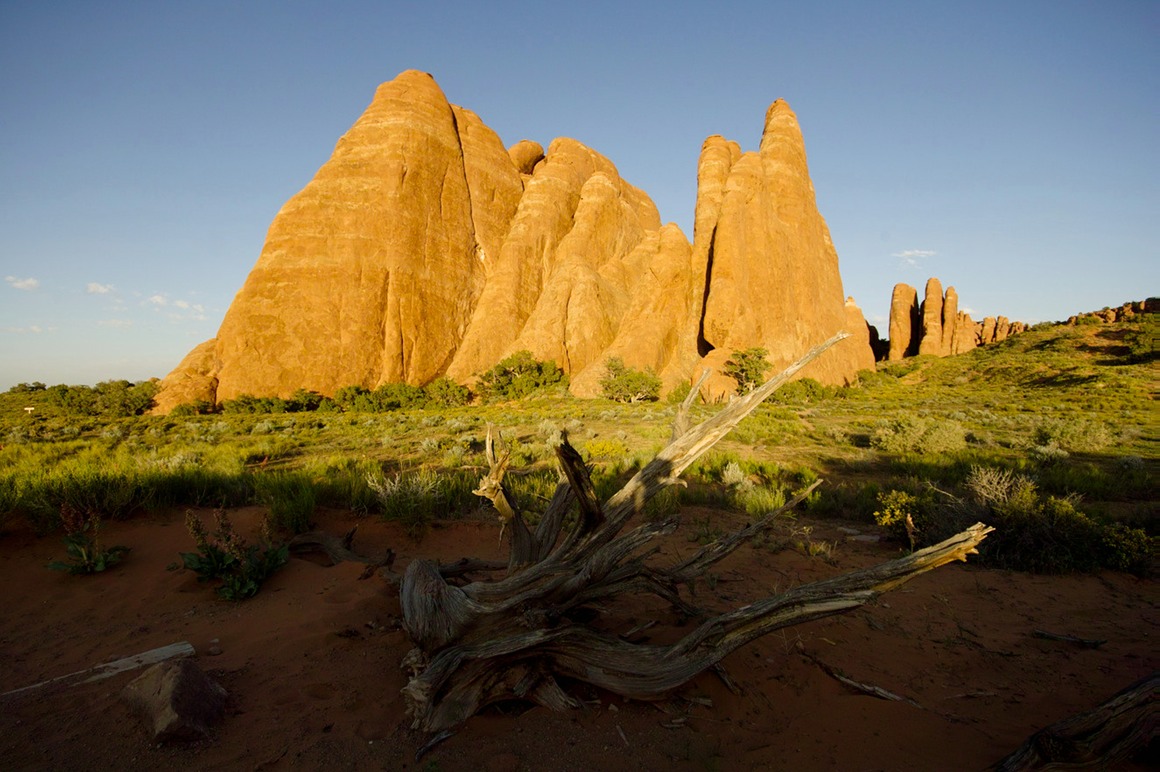 And around the corner is Balanced Rock. We shot this as the sun was setting.